Case Study #9 - Curing 7th grade Math blues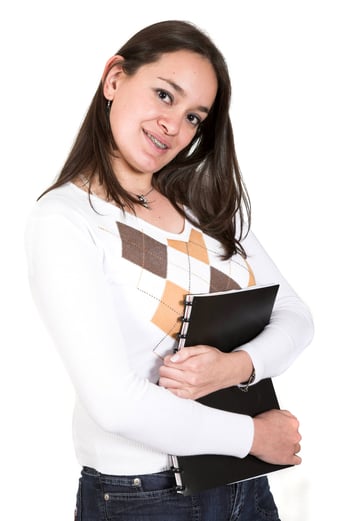 Bianca Webb is a bright, caring 7th grade student who, like many others, struggles to keep up in math. And with classes being online, her family worried she was falling farther and farther behind. With 6th grade over, and 7th grade on the horizon, her parents wanted her to take time over the summer break to catch up on the concepts that had given her trouble the year before. They wanted to set her off on the right foot in the next school year.
Plan of Action:
We had Bianca take an end of year mathematics test so that we can identify areas of strength and also areas of concern. Middle school math tends to really increase in pace compared to elementary school learning environments. We want Bianca to be confident and thorough.
Bianca's tutor noticed right away that she was very quick to pick up on new concepts. She was great at listening and asking questions, and even took notes on the concepts her tutor was explaining. She clearly cared very strongly about learning as much as she could. Her private math tutor walked her through a long list of math concepts such as fractions, decimals, percentages, rate problems, and solving linear equations. After their sessions the 1 on 1 tutor would often provide her homework to do in between lessons.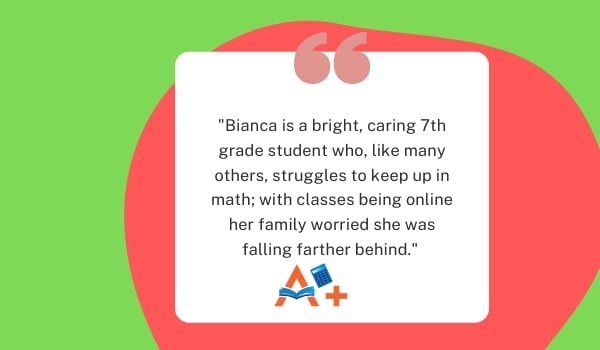 Results:
Over the summer months, Bianca practiced with great dedication. Once school started again, she and her tutor continued to work together, now sometimes adding in assignments from other classes like geography. Her tutor had noticed some issues with Bianca's focus over the summer, but these issues became more apparent once the school year started. She made more careless mistakes than she had been, and her tutor had to put extra attention into making sure that Bianca stayed focused and engaged all through Middle School Math.
Outlook:
Bianca continues to pick up on concepts quickly. Her difficulties with focus are her main hindrance, but her dedication to learning is consistent. As her tutor has gotten to know her learning style, they've been able to guide Bianca even more effectively during her lessons. Her tutor is able to tell Bianca when she needs to slow down, when she's missing a key piece of information, or when she's catching on especially well. And this guidance has given Bianca more confidence in her ability to keep up in class, and to keep expanding on her knowledge going forward. The next step is getting ready for High School and advanced mathematics!