Case Study #24 - English and Math tutoring in 4th grade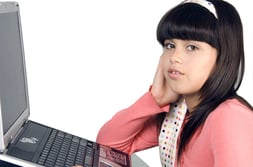 Abigail Peters is a friendly, bright 4th grader, who initially started tutoring in 3rd grade. This was right when school moved entirely online, and with everything being upended, her family wanted to ensure she had as much support as possible. The goal was to help Abigail keep up with school and stay engaged, even with everything being online.
Plan of Action:
When Abigail started lessons, her tutor noticed right away how eager she was to learn. She was very engaged in her lessons, and picked up on new topics quickly. Initially, her tutor helped Abigail with English work. Her writing ability was solid, though she often relied on the computer to correct her mistakes. But her tutor encouraged her to take the time to read her sentences out loud, to pinpoint her errors on her own. Over the course of their lessons, they worked on different types of essays, parts of speech, verb-tense agreement, and spelling. And Abigail's writing skills continued to improve as a result of her hard work!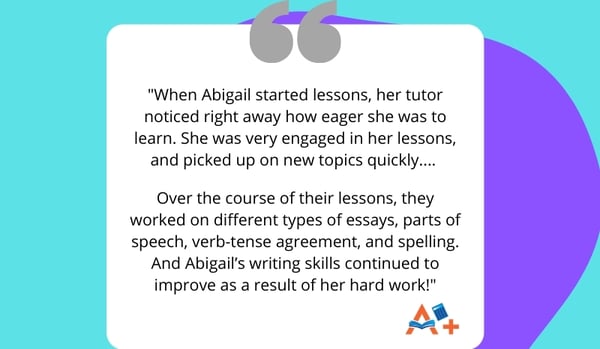 Results:
With her English work being so improved, they have recently shifted focus more towards math help. Their lessons are spent ensuring that Abigail understands various 4th grade math topics like long division, fractions, and dividing decimals (among others). They also often work ahead of Abigail's class, to make sure that she has a solid foundation before her teacher introduces new topics.

Outlook:
Throughout her lessons, one of Abigail's recurring struggles has been retaining information; while she is quick to pick up on new things, she sometimes ends up forgetting them. But she and her tutor are actively working to help her overcome that, by emphasizing the importance of consistent practice. Abigail plans to continue tutoring through the end of 4th grade, and into 5th. And we are confident that she will only continue to improve in her knowledge and skill!