Case Study #12 - Tutoring from 4th through 6th grade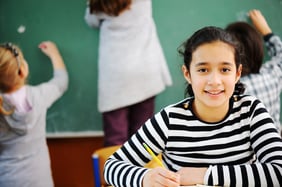 Ella Rogers started tutoring when she was in 4th grade. She had always been quick to pick up on new techniques and information, in both Math and English. But she also struggled with retention. This negatively affected her grades, especially on tests. She could learn new concepts with relative ease, but struggled to build new ideas on top of old ones, since they often didn't stick with her in the long term.
Plan of Action:
When Ella began tutoring, her tutor's main goals were to get her grades up and help her learn new concepts as they came up in class. Her family was concerned about her falling behind, so her tutor focused their lessons on making sure that Ella was keeping pace with her classmates. Her tutor also found ways to work with Ella on her memory issues They would usually spend about three consecutive lessons on a single topic, to allow Ella plenty of time to become familiar with new concepts, and to work on committing them to long term memory. Her tutor also suggested she use YouTube videos in between lessons, so that she had something to refer to if she was struggling to understand her notes.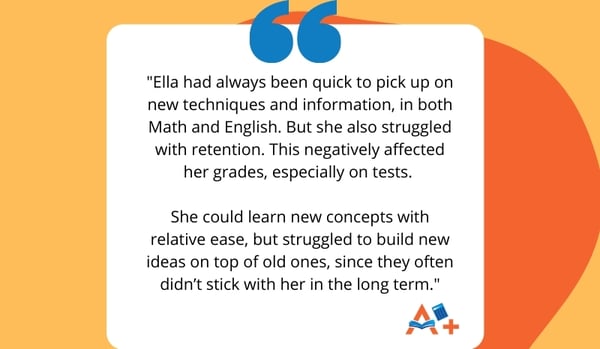 Results:
Ella is now in 6th grade, and her grades have steadily improved. She does still struggle with memorizing new concepts, but her tutor has helped her learn ways to overcome this. Through study techniques and taking extra time to go over each concept, Ella has been able to greatly improve her test-taking skills. Using YouTube videos in between lessons, in addition to note-taking, have helped her when she is working on her own and struggling to remember things that she had previously learned.

Outlook:
Going forward, Ella's tutor will continue to help her with memory work and study skills. Ella's memory struggles may persist throughout her schooling. But with care and practice, she will continue to develop effective ways to work through those difficulties, and use learning strategies that will help her at every grade level.